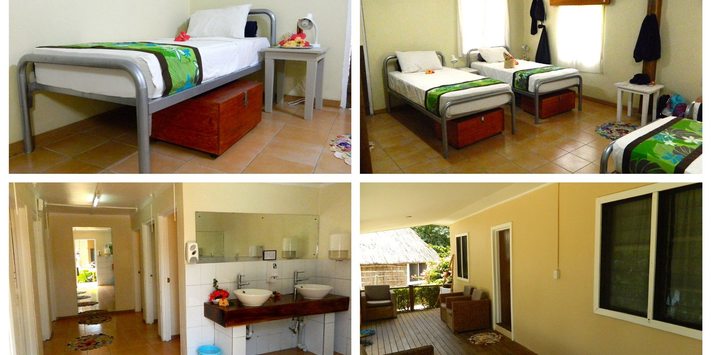 Octopus is a stunning location, and we have from 2002 always offered a affordable option for young travellers to visit Fiji and experience the beauty and magic of Fiji.
It's part of the secret sauce that makes Octopus such a fun place to stay, the young people who are travelling the world, add to what is a great mix of guests from all around the world, and have loads of fund stories to share of their travels and adventures.
We have two 7 bed air conditioned Dorm Rooms which make up our Hostel offering.
These beds cost from $21 USD per night in the 7 bed dorm.
The beds are single beds not bunk beds, each bed has a mosquito net, a side table, a reading lamp, and a locker. 
The dorm guests make use of a detached, communal private bathroom and shower block next to the dorm.
This facility is for 18 yrs or older only. The dorm is serviced daily, and guests are provided all linens, and a bath towel and beach towel each day.
The bathroom block has soaps, shampoo and all the normal hotel ammenites you would expect.
Rooms
Price from: US$256.00 per night (NZD$371, AUD$353). Maximum occupancy: 4 Adults or 2 Adults/3 children. Bedding configuration: King size bed and singl...
View Details
Price from: US$356.00 per night (NZD$516 AUD$492). Max occupancy: 4 Adults or 2 Adults and 3 children Bedding config: King bed size and single bed. Ca...
View Details