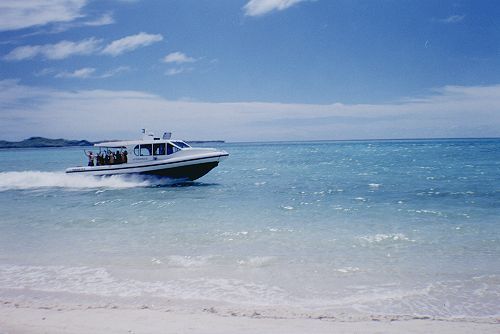 Octopus Resort is located 27 nautical miles from the Fijian mainland, on Waya Island, the largest of the islands in the Yasawa island group.
The resorts own transfer vessel Aftershock, makes a return trip daily to the island, the one way Adult Fare is $89 USD and for a child 5-12 years its $45 USD, children under 5 yrs are free. It will also be available for private charter to meet specific flight arrival or departures, with a minimum rate of $999 USD one way for up to 20 passengers.
For the daily service the boat leaves Vuda Marina (a few miles from the Airport in Nadi) at 9.30 am and then departs the island to make the return trip back to the mainland from Octopus at approx 1 pm. *Please see below notes. The journeys take just over one and 1/2 hours each way and are scheduled to meet many of the flights serving Nadi Airport, allowing the maximum time possible on the island. Air-conditioned minibus transport from the airport or from local hotels is included in the transfer cost.
For a charter Aftershock or Magic our other vessel can leave as required to meet specific flight times, subject to arriving to the resort or mainland before Dark.

*As we endeavor to accommodate as many customers as possible by occasionally changing our boat departure times to allow for flight delays for arriving aircraft, the departure time is subject to change slightly between 9 am and 10 am. Departure times from the island to the mainland may vary from 11.30am to 3 pm depending on the needs of the in house guests on the day to account for early flight departures, the vessel will leave Octopus by 11.30am if there are 3 pm flight departures, guests with flights departing Fiji before 3 pm require a specific private charter, or "day before" departure. At other times scheduled maintenance or sea conditions could delay the scheduled departure time.
We ask you to consider airport delays and customs clearance when considering your transfer options.
Rooms
Price from: US$149.00 per night (NZD$239, AUD$225). Maximum occupancy: 2 person/s. Bedding configuration: King size bed, or split King. No Infants or ...
View Details
Price from: US$229.00 per night (NZD$368, AUD$344). Maximum occupancy: 3 adults or 2 adults and 2 children. Bedding configuration: A King size bed pl...
View Details
Price from: US$279.00 per night (NZD$449, AUD$419). Maximum occupancy: 2 Adults or 2 Adults/2 children. Bedding configuration: King-size bed and singl...
View Details